Be advised this is a guide to running gas pipe. Not all building departments or jurisdictions have the same opinions or codes related to exposed gas pipe outside a house.
So if you plan on following this guide, consult with your building department before proceeding. I'm just full of ideas and they work in my county.
Getting right to the answer, it's yes, gas piping can be exposed. You should follow certain good piping practices like keeping the piping in protected areas and hanging or strapping the pipe every four feet or less.
The type of pipe you use would again depend on what your county allows for piping materials. Copper pipe is allowed in some areas. I don't like it for gas. That's just me. One of my four sons is an HVAC salesman in Alabama, they use it all the time.
Upgrade Gas Fireplace Wall Switch T...
CSST (corrugated stainless steel tubing) flex and black iron pipe are amongst the most popular these days. CSST is so easy to install. Most the time one run of pipe completes the connection to an appliance with no couplings or nineties. Just the end fittings.
So CSST can be used outdoors.
If CSST is your selection, I would use TRACPIPE Counterstrike Flexible Gas Piping available at Amazon. I believe it's a rare thing, but lightning has caused some house fires relative to gas piping.
When properly bonded CounterStike offers a higher degree of safety than the other CSST piping. Anything you can do to increase the safety factor in your home is worth doing. TRACPIPE CounterStrike is definitely one of those products that increases your safety factor.
But the neat trick about CounterStrike is that it doesn't require additional bonding.
Can Black Iron Gas Pipe On The Outside Of A Building Be Painted?
Boy we've bit into a can of worms here. I had a shop in Vancouver, Washington for several years. We had three permitting agencies there. The city, the county, and labor and industries. What a night mare.
Everyone on a power trip. The issue here is painting gas pipe. The city wanted it painted and the county didn't. It could have been visa versa.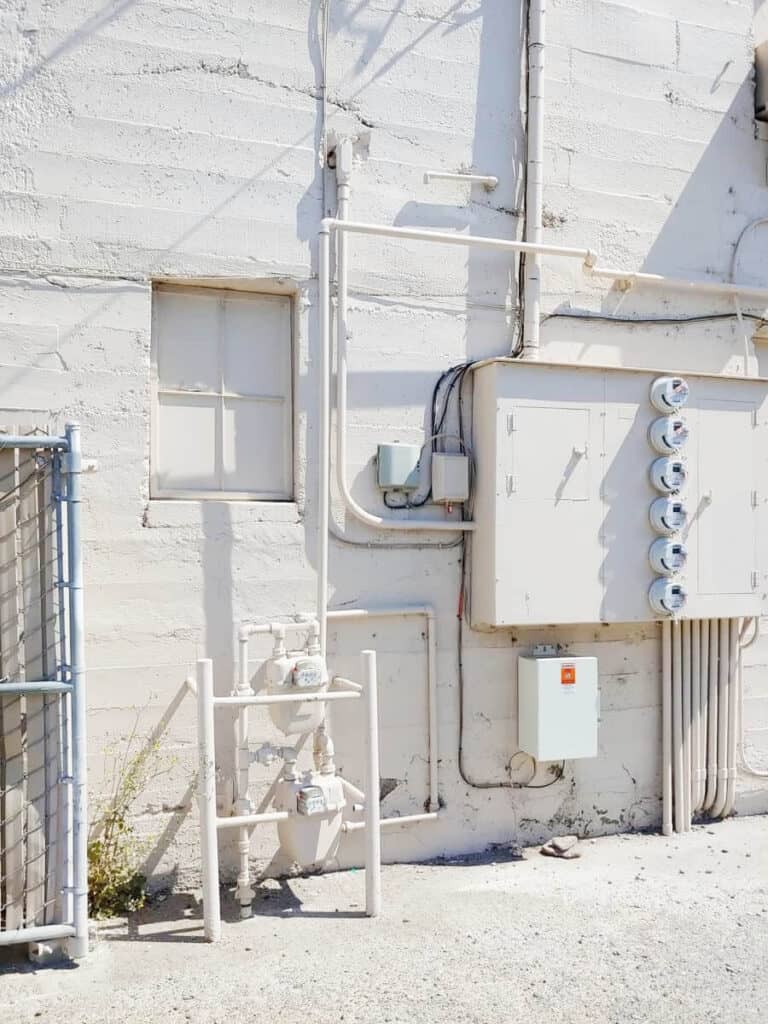 But one of them thought the pipe would rust on the outside if not painted and the other thought the pipe would rust on the inside if painted. You either do as they say or you don't get an approval.
So be really careful doing what you read on the internet. Your inspecting authorities are the final sayso in gas piping. It's really not about what is right or wrong. It's what's in there book.
So for those of you who are deeply concerned about what the natural gas pipe paint color is going to be, do your research first. If you paint the pipe before you know if it can be painted, your job may fail inspection.
If your piping is old and you just want it painted who's to say. I bet if you called your building department and asked if you could paint your 20 year old gas pipe on the outside of you house they would probably laugh. Who knows about your area, so just call them.
Can CSST Pipe Be Painted?
This is a situation where you have to read the installation instructions from the manufacturer along with knowing your local codes.
This is another good reason to use Countersrike because it comes in black. Kind of like Henry Ford, you can have any color you want as long as it's black. I'm by far no color expert, at least my wife says so, but I think black goes with about anything.
Quite a contrast with light colors though.
All the other CSST pipes I've seen are that bright yellow and stand out like a sore thumb.
This is an inside shot of CSST pipe but you can see the color and imagine how it would look on the outside of your house. Remember not to paint it or you could take the position that it's your house and you can do what you want.
But both me and TracPipe said don't paint it.
Since you've read this far, why not travel just a bit further and scope out a couple of my favorite heating and cooling products and tools.
Thank you for reading my article. I hope the information has led to your ability to make good decisions in either working on or discovering how to solve problems in your home HVAC equipment. These are affiliate links, so if you do decide to use any of them I do earn a commission. In all honesty they are products that I would use in my own home or the homes of my friends and family.
Fireplace remotes by Skytech Remote Control Products . My wife loves this and it probably took all of 30 minutes to install. Replace that wall switch or thermostat for your gas fireplace. Easy installation and instructions. In fact I wrote an article that covers the job pretty thoroughly I think.
Honeywell Thermostats. My favorite two Honeywell stats are the T6 Pro and the 8000 Pro series but their is a bunch to select from besides those two models. You can select WiFi that has the capability of operating your system from your smart phone no mater where you are. Honeywell tech support for homeowners is the best out there. Call them if you need at 800-468-1502 or comment below if you have questions.
Fieldpiece HS33 Expandable Manual Ranging Stick Multimeter for HVAC/R. I carry two of these in my service truck. Just like a spare tire, when I get out away from everything, it's no time for a break down. The Fieldpiece HS33 gives me the ability to do any aspect of my trade. I can measure motor or element amps, check capacitors, and AC or DC voltages. Even different scales of OHMS for finding shorted windings or grounded conductors in motors or compressors.